Henrik Edenhed



Full name

Carl Henrik Edenhed

Born

April 28, 1975 (38)

From

Stockholm, Sweden

Profession

Producer, Engineer, Mixer, Composer

Dead by April connection

Produced Dead by April debut album
Henrik Edenhed is a Swedish producer, engineer, composer; currently bassplayer in rock band Straight Frank. For DBA fans, he is perhaps best known for having produced Dead by April's debut album. 
Musical work
Henrik Edenhed was born on April 28, 1975 in Stockholm. As a musican Edenhed is probably best known for having mixed a number of Swedish pop albums. A selection of artists he has mixed for includes Laleh's debut album Laleh which topped the charts in Sweden in 2005, and stayed on the charts for 71 weeks. In 2006 he mixed Bo Kasper Orkester's mega hit I Samma Bil from their number 1 album Hund.
Edenhed got the chance to produce American Idol Season 6 winner Jordin Sparks eponymous debut album. The album reached #10 on US Billboard 200 and has to be seen as a milestone in Edenhed's career. He also mixed Eurovision Song Contest winner Charlotte Perrelli's album Hero in 2008. The same year he mixed Swedish popstar Håkan Hellström's album För Sent För Edelweiss. The album got praised as the "Best Swedish Album of the Year" and topped the Swedish charts. [1]
Henrik Edenhed is also the bass player in Swedish rock band Straight Frank since 2008. [2]
In 2011 Henrik Edenhed started his own company, Edenhead Music Production AB, coated in Stockholm. In 2012 he made a 16 dollar profit. [3]
Dead by April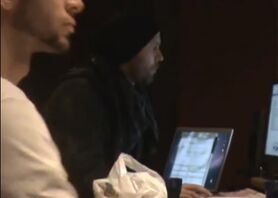 Many were surprised when Dead by April announced Edenhed as producer for their debut album. Edenhed had virtually no experience in producing metal music. In 2007 he had produced heavy metal band Sister Sin's album Dance of the Wicked, but that was about it. Edenhed didn't run the entire production himself though as Pontus Hjelm co-produced the record.
Opinions about Edenhed's job with the album has varied over the years in the band. During the summer of 2009 Pontus Hjelm described Edenhed's work as "He is best known for working with pop and it's perfect for us. I can not think of any other choice as producer." [4]
Two years later the band turned their back to Henrik when they suddenly described his work as "too poppy". Pontus described it as "No offense to Henrik, I thought he did a damn good job on the vocals but other than that... He understood what we wanted but did not get the mix right. I mean according to me he is pretty damn good but it just didn't fit. If we would have been a pop band it would have been wicked." [5]
Alexander shared Pontus opinion about the album sounding too much like a pop-record. "It was too much pop over the mix, too stripped-down." One thing that definitely is true is that the drums was much less computerized than they would be on upcoming DBA records, for better or worse. 
Sources